What are Cosmeceuticals?
The U.S. demand for cosmeceutical products is expected to increase 5.8 percent annually through 2015.
---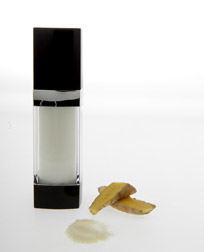 Cosmeceuticals are hybrid ingredients that merge the properties of cosmetics with pharmaceuticals. They are designed to go beyond coloring and adorning the skin's superficial appearance to actually enhancing its functions and overall health. These ingredients typically claim to improve skin tone, texture, firmness, pore-size and radiance, reduce the appearance of lines and wrinkles and/or fight acne.
Common cosmeceutical ingredients include antioxidants, alpha and beta hydroxy acids, retinol, peptides, enzymes, botanicals, growth factors, DMAE, plant stem cells, and de-pigmenting agents such as kojic acid and hydroquinone. Cosmeceuticals are the fastest-growing segment of the personal care industry, with anti-aging skincare products seeing the most significant sales increases.
Since 1998, GSC has built its reputation on developing distinctive and luxurious custom cosmeceutical formulations using cutting-edge raw materials sourced from around the world. For additional information on cosmeceuticals, please see our Ingredients Glossary.